Hi. Super new to Tidal and looking for some input/sharing regarding live workflow.
Here is a screen shot of my current thinking: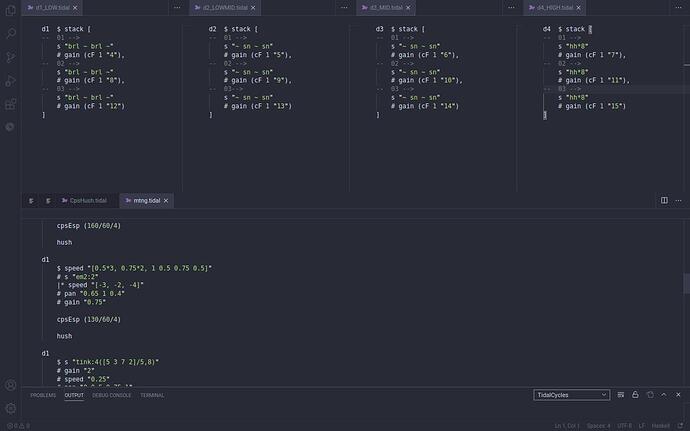 (First post. Hopefully screenshot uploads correctly.
Wondering if it is an inherently bad idea to split channels into separate files in order to better visualise all that is going on. I found myself getting quite lost recently when improvising with a friend and am wondering how others manage.
Also in a live setting what do people do for eq/mixing? Pure code or is it best to output to a daw (using a controller) or separate audio channels to a mixer in order to be able to control eq, gain/volume, etc. If daw is a good solution any recommendations for a minimal linux daw? (don/t need a full blown daw just simple audio processing).
Alternatively is there a way to use Supercollider (with controller) to handle eq and levels (i am sure there is)...
And one last question does anyone have info on receiving an external midi clock via usb in Tidal or SuperDirt?
Any input would be greatly appreciated.