Using well known s function names like "bd", "sn" and "hh" but with a twist: I am experimenting with a multi-sample drum pack in TidalCycles and I made a mapping in SuperCollider to control Drums hosted in Kontakt.
For this, I intercept a Tidal event in SuperCollider and transform it before playing it through SuperDirt.
The goal is to reduce the mental model when using a MIDI device (or plugin) so that you can write your code both quickly and safely during a performance.
And I think this could be useful in general.
In TidalCycles the interface was transformed in these steps:
-- Original pattern for playing a base drum 
d1 $  n "[-36*3]" # s "midi" # amp 1.0 # midichan 0

-- First transformation
-- Transform 0 to -36 under the hood
d1 $ s "drums" <| n "0*3"

-- Second transformation
-- Transform `bd` to a midi event with midinote -36  
d1 $ s "bd*3"

SuperCollider code:
(

var eventmapper = { |event, result|
	event.putAll((\type: \dirt, \dirt: ~dirt), currentEnvironment);

	if (event.at('n').isNil, {event.add(\n -> 0.0)});

	event.add(\type-> \dirt);
	event.add(\dirt-> ~dirt);
	event.add(\s -> \midi);
	event.add(\midichan -> 0);
	event.add(\amp -> ~gain);

	result.putAll(event);

	result
};

var notemapper = { |event, result, tidal, kontakt, mod|

	if ((event.at('n') % mod) == tidal, {
		result.add(\n -> kontakt);
		result.add(\freq -> (kontakt + 60).midicps );
	});
};

// Example for sn
~dirt.soundLibrary.addSynth( \sn, (play: {
        var event =  ();
	var result =  ();

	eventmapper.value(event, result);
	notemapper.value(event, result, 0, -34, 5);
	notemapper.value(event, result, 1, -33, 5);
	notemapper.value(event, result, 2, -32, 5);
	notemapper.value(event, result, 3, -31, 5);
	notemapper.value(event, result, 4, -30, 5);

	result.play;
}));

)

Here you can see it in action: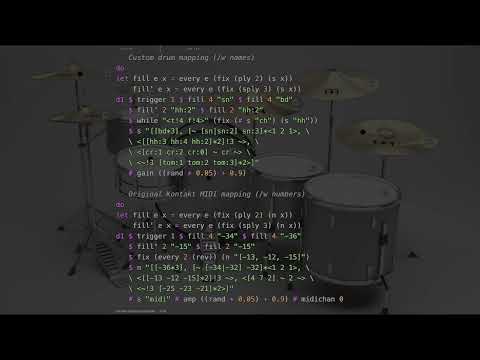 This is hopefully useful for someone