[edit] Videos are now up on youtube and archive.org!
Massive thanks to @sfradkin who has been powering away at tools to automate this process, meaning we are working ever closer to an (almost) instant post-performance availability. A few more events testing I think and we'll be pretty close:
Youtube (eulerroom)

archive.org
https://archive.org/search.php?query=subject%3A"longest+night+2021"
[edit] Huge thanks to everyone who performed, watched, participated, supported and organised - it was a bunch of fun, and there is loads of gold to be found in all the performances!
Work is underway to get the performances uploaded to a permanent archive on youtube/archive.org, in the meantime twitch will be holding replays for ~14 days:
Twitch
We also got a lovely write up from Peter Kirn on cdm.link (Create Digital Music):
Lockdowns? Variants? Live coders are always ready to make beautiful moments of togetherness that defy isolation and distance. Tune into the TidalClub Longest Night right now:

And yeah, as I wrote this, someone really was using Atari ST stuff as pictured. That's hot. A moment ago it was some chopped-up speech and birdsong in a meditative loop.
For future streams, here's all the organisational material:
https://drive.google.com/drive/folders/1JgCY6M0X4uab__HbVFG8ebvTgIMUXfRZ?usp=sharing
This includes:
Let's not leave it so long til the next one!
[/edit]
It's been a long time since the last marathon, but thanks to some monumental efforts from the organising team...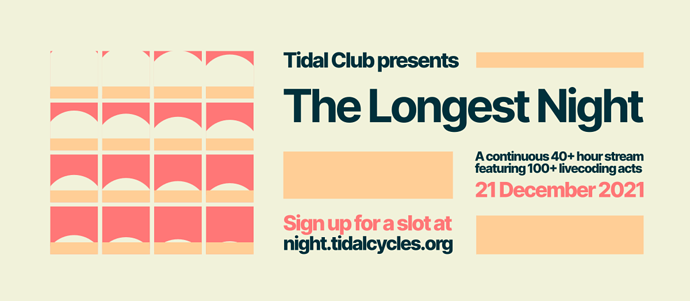 Sign up for your slot at https://night.tidalcycles.org
This thread is for any discussion or support required for the event!
This is the place for information and detail that may have benefit for future marathons. For more ephemeral discussion, there is also the #nightstream channel on the discord chat.
Links:
Stream setup and testing (with massive thanks to @paulchannelstrip ):
Social Flyers/Banners - Share them round your instatwitbooks!! (with massive thanks to @gamar3is ):
Cover banner
Square Format Flyer
A4 Portrait Flyer
There are a number of people I (/we as a club) need to thank:
@munshkr for building and endlessly improving the open source muxy backend which provides the core streaming multiplexing infrastructure
@mrreason and @Givo29 for their incredibly fast/coordinated work building and open sourcing the muxy-frontend project for taking the sign ups, and particularly @mrreason for his unrelenting push to share his knowledge
@gamar3is once again for the beautiful and thoughtful theme/palette adorning the frontend
@paulchannelstrip for sharing his extensive knowledge on streaming setups in the support docs and tirelessly assisting with anything needed
@yaxu of course for the tool that has brought us together for this marathon, but also for the hosting, trusting me/us with some crucial accesses, and of course allowing us to tap his extensive knowledge about the bodies and where they're buried


A shout out to the rest of the team who've provided/or volunteered to provide support over the coming weeks - @sfradkin, @ritchse, @kit-christopher, and @arethusa