Hi Everyone,
I'm having a very hard time sending osc messages outside of Tidal in order to change visual parameters in programs such as Processing and Hydra in real time. I've tried the following resources:
Olivia's official tidal/hydra example via github
Diego Dorado's tidal hydra tutorial via github
Official tidal osc documentation
Atsushi Tadokoro's processing/hydra example via github
tidal and processing blog post
p5dirt
sorry - new user - can only embed two links
I've also scanned the various Tidal/Hydra/Processing forums for more information as well - I haven't found anything I've been able to get up and running.
I'm more familiar with Processing, so I'd prefer instruction on sending messages from Tidal directly to Processing, however, it seems that once I can get messages out of Tidal, I can pretty much route them anywhere.
I've attempted to change the BootTidal.hs file, added osc routing inside SuperCollider, and reviewed the official documentation on the Tidal website - all to no avail.
Using OSCFunc.trace(true, true); in SuperCollider, I can see the osc messages are being received, I'm just having a hard time routing them outside of SuperCollider/Tidal.
I apologize for this screenshot, but I can only add one image and am hoping to give you all as much info as possible. Each screenshot is something different I've tried to get messages outside of Tidal and the various error messages I've encountered: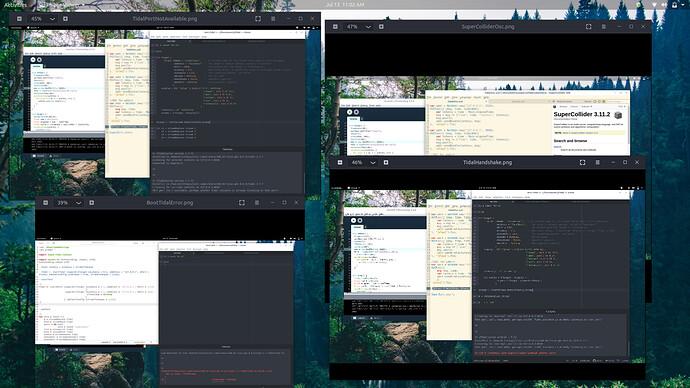 I'm very new to Tidal, and maybe I've made a very simple mistake that's preventing me form sending messages. Not sure, but any insight will be greatly appreciated. Thank You!!!
-Brittney